Thinking about giving Blended a watch? As part of Adam Sandler's catalog of movies – it's only natural to think that you'd be in for a great laugh.
After all, Adam Sandler is one of the funniest (and as of recent years, one of the most talented directors) of our time. 
Still, despite this – at the time of its release and even now, Blended often gets quite a mixed reaction from both the public and critics, alike.
Why, you ask? Well, even though  – there's just one hard truth that's hard to overlook, Blended just isn't that funny.
Nevertheless, even though Blended isn't his best work, it is worth noting that Barrymore and Sandler are just as fantastic together – especially together.
Their on-screen chemistry is undeniably infectious (let's not forget, these two have a long history of working together, as well as a genuine friendship) that has spanned decades. 
In Blended, we see the two enjoy shared banter similar to that we see in other movies the two have worked together on, including 50 First Dates and The Wedding Singer.
The banter flows so effortlessly that it seems as though you're listening to two best friends catching up with each other – and in part, this is entirely the truth. 
Barrymore is as effervescent and bubbly as ever, while viewers are met with Sandler's commanding, comedic and familiar on-screen presence. The two are as great as ever, and surely one of the main reasons that Blended isn't a total flop.
You might also be interested to learn that the director of this movie, Frank Coraci, also worked with the two while directing The Wedding Singer. It's hard to not feel frustrated given all the immense potential.
All in all, though, it really does seem as though Sandler is using this movie as just another reason to take off and have a vacation with friends old and new.
In some of Sandler's other works, like Just Go With It, for example, Sandler and his gang take off to Hawaii for the majority of the movie. In Blended, the destination of choice is South Africa, where the aim of the game is to bring new families together.
The storyline is a tried and true one for Sandler – and it certainly makes for fun family viewing, at the very least.
How do they get to South Africa, you ask? Well, this is achieved through a series of plot contrivances created by the writers of Blended, Clare Sera and Ivan Menchell.
Early on in the movie, Barrymore and Sandler share a terrible blind date, only to find themselves running into each other in everyday life thereafter. 
So, when Barrymore and Sandler characters just so happen to end up in the same vacation resort in South Africa, it doesn't come as such an unexpected surprise to the audience. What are the chances?
Not only that, but along with the two stars Barrymore and Sandler, the rest of the main cast from here on out consists of their five kids…and did we mention that they're all sharing the same suites? Yes, you read that right, shenanigans ensue!
In the coming scenes, the audience are shown through a montage of, somewhat funny, moments that display how dysfunctional both parents are.
Lauren (Barrymore) is clearly in need of a father figure for her children, while Jim (Sandler) is quite obviously needing a maternal figure for his kids.
The plotline is pretty obvious here as Blended reaches the final quarter, but nonetheless enjoyable.
Somewhere among the merging of the two families and the budding romance between Lauren and JIm, there's even a cameo by Terry Crews as a singer  – fun fact, he's a pretty great singer.
At some points throughout Blended, there are a few moments that genuinely do seem to have substance and sentiment.
One such scene that springs to mind is when Sandler's Jim sits down for a one on one talk with the kids – his natural charisma shines through here and there's a sentiment throughout that seems to be lacking in the rest of the movie.
Though we'd like to have seen more of this naturalism, the presence of it is at least a sure shine that Sandler hasn't lost his touch – even if Blended doesn't land. 
Blended: Our Verdict
Overall? Despite some of its shortcomings, Blended is a generally enjoyable movie that many find to have a high rewatchability.
Sure, even though some of the jokes feel forced or even out of place in some moments – for the most part, both Sandler and Barrymore do a great job at creating a fun comedy movie that all the family can enjoy.
If you liked this article, you might enjoy our post, 'Scary Movie V Movie Review'.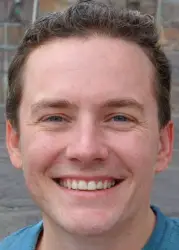 Latest posts by Max Roberts
(see all)